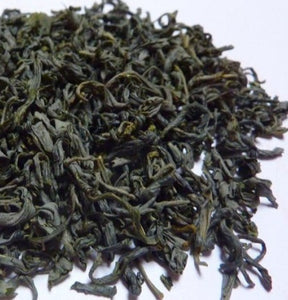 Fantastic opportunity to try traditional Kamairi Tamryokucha! Japan has been making Kamairi Cha for hundreds of years. In fact this type of pan fried green tea is the way they originally learnt how to make tea from the Chinese before they started steaming teas as they typically do today. And today Tamaryokucha is the only famous tea they make using the pan-frying technique
To make green tea the leaves must be deenzymed to stop the natural oxidation process. This can be done by pan-frying, which is the preferred method in China to this day or steaming as is typical in Japan now.
You can tell the leaves weren't steamed just by looking at the wet leaves as they are more whole and separate easily. This Yabukita green tea surprises you with a highly aromatic and persistent cup that is silky, full and creamy, and for its ability to handle more infusions than most steam-dried teas.
Origin: Gokase, Kyushu, Japan
Harvest: Ichibancha, Spring, 2023
Color of liquor: greenish yellow
Aroma: corn, oven baked sea bass, marine
Flavor: silky, lightly roasted, buttery, mineral
Temperature: 80º c
Steeping Time: 1min; 1,5min; 2,5min...