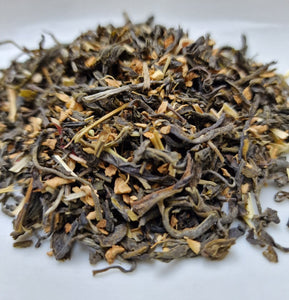 It's rare that we offer aromatized tea and we're thrilled to have found this amazing one (and her lovely Vietnamese sister Ylang Ylang Wild Green Tea)! This tea is wild, organic and fair-trade made by Dao and H'mong ethic people who are faithful to their cultural traditions making tea as they have been for centuries. This is a very rare naturally aromatized tea made from delicious wild and organic green tea that grew at 1200 meters in Lao Cai near the Yunnan border. These Snow Mountain trees are between 3-5 meters high and grow in an ideal environment that is fresh, humid, misty and cloudy. Snow Mountain tea is Camellia sinensis var. Sinensis and the snow refers to this high elevation and to the white downy hairs on the young tender leaves.
This high quality tea was then elegantly hand-blended with organic, fair-trade artisan produced ginger and lemongrass. Not only is it delicious but it's also very healthy for your body! Ginger is a spice that is great for our immunity system, digestion and throat. Lemongrass is high in antioxidants and also a powerful detox and anti-inflammatory.
This tea doesn't contain any essential oils, artificial or "natural" aromas or flavors... just pure lemongrass, ginger and wild, organic green tea!
Origin: Lao Cai, Vietnam
Harvest: April, 2023
Color of liquor: golden yellow
Aroma: fresh and potent, ginger and lemongrass
Flavor: full, lively, spicy, citric, persistant, ginger, lemongrass
Temperature: 75º c
Steeping Time: 1min; 1min; 1,5min...