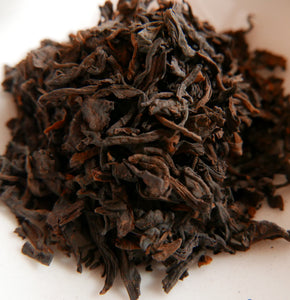 This is actually not Puerh but Liu Bao, which is the Hei Cha that served as the inspiration for shou puerh processing in Yunnan when they began experimenting with wet piling and fermenting puerh in the 70's. 
'Si Jin Quan' (Four Gold Coins) is a brand of Liu Bao that has been sourced and packaged by a Hong Kong trading company of the same name since the late Qing dynasty (Guangxu period).

This Liu Bao is a blend of 2003 and 2004 material that is smooth and rich in the mouth and displays a nicely aged flavour. You'll find this tea warming, with full and sweet body that is smooth and delicious. 

Origin: Guangxi, China
Harvest: Spring, 2003 and 2004
Color of liquor: copper orange
Aroma: dry forest floor, betel nut, pine, old wood
Flavor: soft, smooth, round, sweet, woody, long elegant aftertaste
Temperature: 100º c
Steeping Time: 1min; 1.5min; 2min; 3min; 4min...