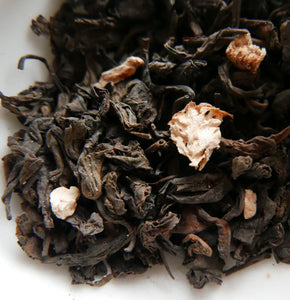 This is a fantastic symbiotic blend of ripe shou puerh and lion´s mane. You'll be amazed how perfectly these two blend and fuse and become almost inseparable in flavor. What we have here is a fantastic tea that can be enjoyed for its flavor or for its therapeutic potential. You probably already know about the many virtues of puerh tea, specifically for the digestive system and for heart health but what about Lion's Mane? Well you should know that it is currently the subject of many scientific studies that show it may protect against dementia, improving memory thanks to Erinacenes and Hericenones, two compounds in Lion's Mane that support brain function as found researching Alzheimer's disease.
It's also has strong anti-inflammatory properties which can be soothing, reducing stress, anxiety and depression. It is believed to help promote nerve growth, mind-focus, reinforce healthy sleep with an increase in REM sleep.
But don't take my word for it... do your own research and see how it can work for you. In any case, you can always just enjoy it for its flavor! It's a perfect, warm, soothing tea for Winter! 
Origin: Simao, Yunnan, China
Harvest: Spring, 2021
Color of liquor: brownish-red
Aroma: camphor, lion´s mane mushroom, leather, damp fall leaves
Flavor: sweet, dense, lion´s mane mushroom, earthy
Temperature: 100º c
Steeping Time: 1,5 min; 2min; 3min; 4min ...