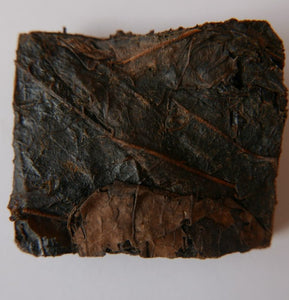 Goishicha is a unique fermented tea that dates back to the 16th century and is still produced today by the Ogasawara family on Shikoku Island. The leaves come from the summer harvest of a specific mountain cultivar.
After harvesting, they are steamed and then covered with mats for initial fermentation. After about a week, the leaves are placed in large wood barrels, where they are loaded and allowed fermented further with the juices of the first fermentation in an anaerobic environment. This fermentation lasts a couple of weeks. At the end of the second round of fermentation, the leaves are removed, cut into small cubes and sun-dried on straw mats. In the dry state, the leaves are dark brown and give off a special fruity aroma reminiscent of raisins and prunes. Its aroma is quite unique and with a wide variety of notes ranging from umeboshi fermented plums and sauerkraut to clove, sour cherry lozenges and shitake.
Its flavor is also very distinctive, sweet and slightly acidic with a very silky, milky texture. In Japan, the tea is often boiled (historically, with a pinch of salt), but you can also brew as you would other teas, using one square for numerous steepings. Or, since this tea is quite potent and handles many steepings, you could try using just half a square when making tea for yourself.
Kochi University and Tokyo Agricultural University have done scientific studies on Goishicha and discovered that it is especially good for the digestive track and for lowering cholesterol. There have yet to be studies in Europe. This tea is rare even in Japan. Its production almost disappeared due to its complicated processing that very few people understand and master. This is one of the reasons this tea is so expensive today.
Origin: Otoyo, Kochi, Shikoku Island
Harvest: Summer 2017
Color of liquor: orange
Aroma: umeboshi plums, sauerkraut, clove, sour cherry lozenges, shitake
Flavor: sweet and sour, silky, milky, tangy, citric, smooth
Temperature: 100º c
Steeping Time: 45sec; 1min; 1,5min; 2min; 3min...