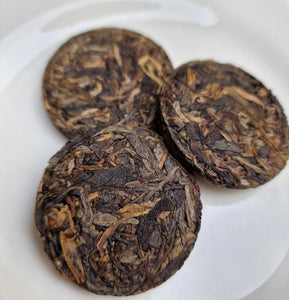 Sheng Puerh made from Gu Shu "ancient trees" growing around Qian Jia Zhai in Zhenyuan County, which is crossed from north to south by the Ailao and Wuliang mountain ranges.  Terroir is always important in tea but truly more so with Sheng Puerh which is less processed and transformed by man than other tea genres. This traditional tea cultivation area is full of centuries-old trees. The leaves for this tea come from ancient tea gardens around the protected Qian Jia Zhai park (which is famous for its 2700 year old tree). This is a very balanced vintage that has already aged a little. You'll find it to be incredibly complex with notes of hay, leather, peach jam, ripe fruits and wax. It is a very powerful tea with thick mouthfeel but lasting sweetness. 

Sheng Puerh is perfect for drinking in Summer and warm weather as it is particularly cooling for the body and in Traditional Chinese Medicine it is hailed for its strong Yin properties. Each piece weighs between about 8 grams and is individually wrapped. You will find its aroma particularly floral with warm nuttiness around the edges and its flavor to be very balanced, strong but not astringent with lots of huigan, the term used in China to describe the long lasting sweetness that returns on one's breath after swallowing this delicious tea.
Ideal Preparation Gongfu 100 degrees. You may use the entire piece but first break it up a little. 120ml. Since this tea is compressed we recommend you brew the first steeping longer so that the tea begins to loosen up. You can begin with 10-20 seconds and then brew shorter steepings of 5-10 seconds before gradually increasing the duration. This tea is extremely patient, handling many, many steepings! Enjoy with a small group of friends and stay cool!

Alternatively, you could also brew just half the piece in a shibiridashi and do longer steeping steeping times such as  20sec. 30sec. 45sec. 1min….
Origin: Qian Jia Zhai, Zhenyuan, Yunnan, China
Harvest: Spring 2017
Color of liquor: yellow with hint of orange
Aroma: hay, leather, peach jam, ripe fruits and wax
Flavor: rich and balanced, strong but not astringent, strong huigan or long sweet aftertaste.
Temperature: 90-100º c
Steeping time: 20sec. 30sec. 45sec. 1min….