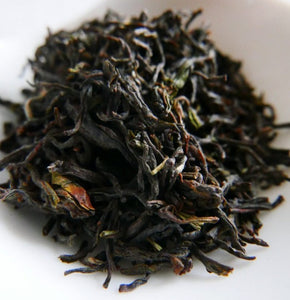 Fantastic frost tea from Kairbetta, one of the best gardens in the Blue Mountains of Nilgiri, in southern India. Frost tea is high elevation tea picked from bushes that before harvest got a little bit frozen during the night. This phenomenon slows leaf growth and changes the metabolism of sugars in the plant and gives it its special aroma creating the best teas you'll find in Nilgiri. You'll find these winter leaves, harvested in the first week of February, have been very nicely processed. This is a lighter style Indian tea, closer to Darjeeling tea, a delicate tea with sweet honey and citric notes. The Kairbetta Garden is located in the Blue Mountains in the South Indian state of Tamil Nadu at an altitude of about 2000 m. and is certified by the Rain Forest Alliance, which promotes conserving biodiversity, sustainable agriculture and minimizing agrochemical practices.
Origin: Blue Mountains, Nilgiri, Tamil Nadu, Kerala, Karnataka, India
Harvest: first week of February, 2023
Color of infusion: orange
Aroma: muscatel, grapefruit, exotic wood, caramelized carrots
Flavor: complex, velvety, peach, green wood, molasses
Temperature: 90º c
Steeping Time: 1min; 1min; 1,5min...