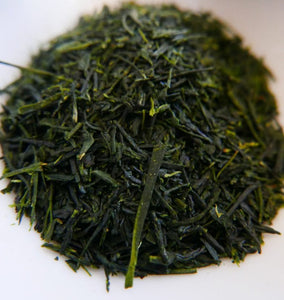 This organic Gyokuro Jade Dew green tea from Kirishima Mountain in Kagoshima is a nice gyokuro for a really great price! As we've said before with teas like Sencha "Zen Cha" Saemidori, Saemidori is probably our favorite Japanese varietal because we love its creaminess and sweetness. To make this tea the bushes were shaded aproximately three weeks before the first flush harvest. The leaves have a nice appearance and a very full, sweet creaminess that is rich in umami.
The tea's infusion is a brilliant green with a very deep, sweet taste that stays strong though numerous infusions. Japanese green tea, Gyokuro or "Jade Dew" is the highest grade of Japanese green tea and is famous for the special care with which it is grown and harvested.
To produce gyokuro tea it is necessary to cover and shade the plants for the last 20-30 days before harvesting. Gyokuro leaves become more tender as they are not exposed to direct sunlight. This shading process also inhibits photosynthesis, so the plant 3must survive on its own nutrients. This changes the chemical composition of the leaves, reducing catechin (responsible for bitterness) and extracting L-Theanine, which improves its sweetness and aromatic properties.
Origin: Makizono, Kirishima, Kyushu, Japan
Harvest: First week May, 2023
Color of liquor: phosphorescent green
Aroma: creamy, biscuits, bread
Flavor: sweet, silky, creamy, refreshing
Temperature: 55º c
Steeping time: 2,5min; 0,5min; 2,5min .