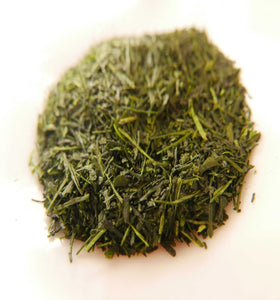 Shincha, which means "new tea" is the term used to demark Japan's first flush and is one of the most eagerly awaited teas each season since it heralds the begginging of the new tea sesaon. This tea comes from the first spring collection (Ichibancha) using Saemidori cultivar leaves from Kakegawa, Shizuoka.
This tea has been processed in the Chumushi style, meaning the leaves were mid-steamed for 40-80 seconds which breaks down the leaves further and produces a tea that is more intense, sweet and with a higher amount of micro-particles that give the brew a much more intense and cloudy green appearance than Asamushi style but much less so than Fukamushi style. Chumushi is the most common steaming style you'll find in Japan.
You'll find traditional Shincha taste which combines the freshness of spring, with strong flavor and a slight trace of bitterness. Shincha stands apart because of its vivaciousness. Highly recommended and a must for this time of year. You'll find this tea withstands an unusually high number of additional steepings.
Origin: Kakegawa, Shizuoka, Japan
Harvest: Spring (Ichibancha) April 2023
Color of liquor: acid green
Aroma: strong vegetal and grass
Flavor: rich, full, grassy, sweet, long-lasting
Temperature: 55º c
Steeping time: 3min; 30 sec, 3min