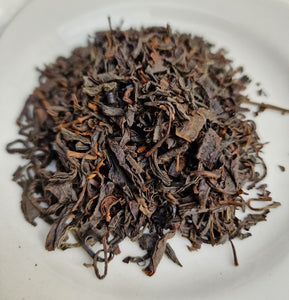 Very interesting and rare novel wakoucha (Japanese Red Tea) made by Yusuke and Junji Kadota in MiyazakiPrefecture on Kyushu Island in Japan. For this tea he blended Yamanami and Yabukita varietal leaves from the second flush harvest on his highest tea garden which he calls "Arasaki". 
The second flush harvest have more catechins which helps give this amazing tea its fruity and highly fragrant aroma. This is the first time we've offered a tea made with Yamanami leaves. Yamanami is actually normally reserved for pan fried kamairi cha. This varietal was offically registered in 1965 and developed at the Miyazaki Research Center from local seeds brought from Hubei, China. 
Origin: Miyazaki, Kyushu, Japan
Harvest: June, 2023
Color of liquor: bright orange
Aroma: freshly baked cookies, gingerbread, citrus, herbal, fruity 
Flavor: robust, velvety, malty, voluptuous, round, sticks to upper palate, long aftertaste
Temperature: 90º c
Steeping Time: 45 sec; 1min; 1min; 1,5min; 2min...