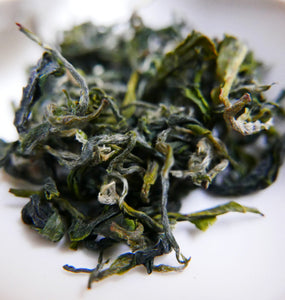 Taiwanese version of the famous Chinese green tea Bi Luo Chun "Green Snail Spring", cultivated in Sanxia, an area famous for its green teas. Leaves of the Chin Shin Gan Zai varietal were harvested and produced using traditional agriculture methods without usage of agrochemicals. The producer who makes this tea has won Grand Prize at the Green Tea Competition of Sanxia numerous times. Its leaves are long, twisted and with many silver tips. It differs from the Chinese original in that its leaves are bigger and with less fine downy fuzz, but its flavor and fragrance is clean and refreshing, evoking green fields of Spring.
Origin: Sanxia, New Taipei, Taiwan
Harvest: Early April, 2022
Color of liquor: pale, transparent green
Aroma: floral perfume, grape, lime, fresh, string beans
Flavor: sweet, fruity, light, refreshing, mineral
Temperature: 75-80º c
Steeping time: 1min, 1,5 min; 1,5min; 2 min...