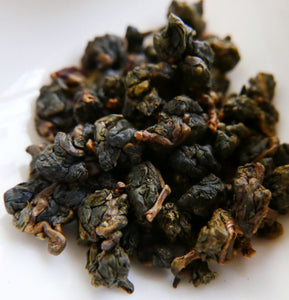 Master roasted traditional Dong Ding tea coming from organic gardens in Lugu (Deer Valley). Made by old Master Su using Chin Shin varietal. This type of traditional roast is almost extinct as it is extremely labor intensive as it involves over 80 hours of slow and gentle charcoal roasting, but Master Su has been making this tea for over 50 years! You'll find this tea to be full, deep and very harmonious! Dong Ding style Wulong represents one of the most genuine and original flavors of the Taiwan Island. The craft of this style of Wulong is in large part thankful to the early Fujianese settlers in this area of Nantou county that looked to nature and saw that it was perfect for making a good Wulong; in a similar fashion to Tieguanyin of Anxi county in central Fujian on the mainland. Dong Ding Wulong that came to develop, retained some qualities of that famous tea and created some of its own processing and roasting techniques to create its characteristic flavor.
Origin: Dong Ding Mountain, Lugu, Nantou, Taiwan
Harvest: Winter 2022
Color of liquor: golden yellow
Aroma:baked bread, roasted peanuts, roasted eggplant, prunes, chocolate, baked apples
Flavor: sweet, vegetal, eggplant, soy
Temperature: 100º c
Steeping time: 1min; 1min; 1,5min; 2min...