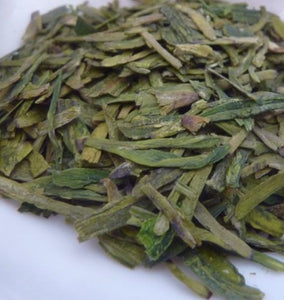 Long Jing green tea is probably China's most revered tea. Its leaves are jade green with hints of yellow, folded flat in a very distinctive "bird's tongue" shape achieved by skillfully pan-frying the leaves in a wok.  This Longjing green tea has everything you expect of a great Longjing with one exception, it comes from high mountains of Guizhou and not its original birthplace in Hangzhou. The high mountain micro-climate provides nourishment and slow growth which make for greater concentration of aromas. The tea garden this tea comes from is governed by Dong and Miao minorities. The leaves of this Guizhou Long Jing are from the Long Jing #43 varietal. This tea brews a full, thick and oily cup with a sweet aftertaste.
Origin: Qiandongnan, Guizhou, China
Harvest: Abril, 2022
Color of liquor: light pastel yellow-green
Aroma: buttered corn, sweet grains, delicate flowers
Flavor: chestnuts, fresh broad beans
Temperature: 65-70º c
Steeping time: 1min, 1min, 1,5min...