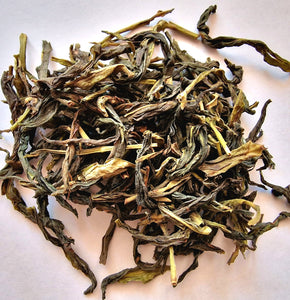 Chou Shi Ya Shi Xiang Dan Cong or "Duck Shit Fragrance" is a famous indigenous variety from Ping Keng Tou in Guangdong province, which is used to produce a very fragrant Dan Cong Oolong! If you are familiar with the smell of Duck Poop, you can judge if its name is spot on. I have talked to some farmers who assure me that the smell of Duck Poop is not unpleasant, it is even "sweet".That said, China is a land of legend and myth and this tea also has a curious history that could be true.
Dan Cong means "Single Bush" because they originally named each of the trees and called them with a suggestive adjective. When they harvested the tea leaves, they did so individually and keeping the leaves separate from those of other trees. Legend has it that the owner of the "Duck Shit Fragrance" tree gave it that name to scare away neighbors and other producers who were jealous of the quality of their tea. He thought so that no one would disturb his tree which produced such a fantastic sweet and fragrant aroma.
Havng said all this.... this Ya Shi Dan Cong is not the typical Dan Cong that you may or may not have tried already. The processing was very different as they used a "new" style of processing called Chou Shi, to produce a much greener and more floral oolong tea. In this process, immediately after harvesting, before it can wilt, they stop oxidation by shaqing and then briefly roll by hand before undergoing a dehydration process. And that is what makes this fragrance so powerful! In fact, you will find some resemblance to the type of modern Anxi Tie Guan Yin that you normally find, the one that lacks its traditional roast.
Origin: Ping Keng Tou, Wudongshan, Fenghuang, Guangdong, China
Harvest: Spring, 2022
Color of liquor: golden yellow
Aroma: floral perfume, cattleya orchid, orangle blossoms, honey
Flavor: sweet, creamy, elegant, refreshing, silky
Temperature: 90º c
Steeping Time: 1min; 1min; 1,5min; 2min; 3min...