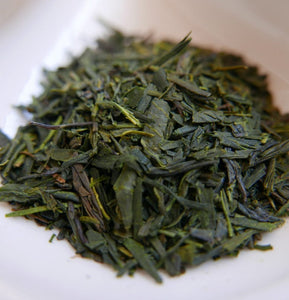 GABA green tea (Gamma-Aminobutyric Acid) made from Japanese Yabukita varietal bushes that are naturally rich in glutamic acid - the precursor to GABA, and with 179mg GABA it exceeds the Japanese standard of 150 mg of GABA per 100 grams of tea. GABA tea production differs in that it is made in a nitrogen rich anaerobic atmosphere without any exposure to oxygen. This GABA amino acid in the human body acts as a neurotransmitter and helps reduce stress, relax muscles and counteract anxiety. Other health effects such as lowering blood pressure, muscle renewal and regeneration are attributed to high GABA teas.
To read more about Gaba production and health properties please visit our Blog: http://cajchai.com/blog
Origin: Shizuoka, Japan
Harvest: Spring, Ichibancha, 2022
Color of liquor: Golden yellow
Aroma: buttery, dried plums, strawberry marmalade, creamy, honey
Flavor: silky, oily, umami, seaweed, creamy, fruity, honey
Temperature: 75º c
Steeping Time: 1min; 40 seg; 1.5min; 2.5min...