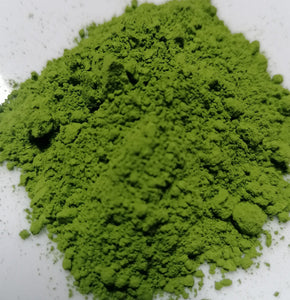 GABA Matcha is a Tea Ceremony-grade powdered green tea. In fact this GABA is a whole new Matcha experience that you can enjoy during the day or even right before bed! This jewel of a tea was made by a famous tea producer in Uji, Kyoto that dates back to the early 18th century.
This special matcha was named after an amino acid called GABA (γ-aminobutyric acid), a major neurotransmitter of the human central nervous system. This compound is likewise present in other teas and is beneficial to our health in many ways. Thanks to a natural processing procedure developed by the National Institute of Vegetable and Tea Science, however, GABA Matcha is far richer in GABA than are other varieties - the effect of this tea could be more than 10 times stronger than that of usual Matcha. Gamma-aminobutyric acid (GABA) can act as a blood pressure controller. Its daily consumption might help burn fat and have a beneficial effect on blood pressure or stress issues. GABA is also great for a good night's sleep, making this Matcha suitable for late evening drinking. I can't stress enough how amazing it is to drink this matcha before bed... you get such a deep, wonderful rest. And yet, it is amazing to drink during the day as well as it gives you an attentive -yet dreamy- state of mind. Quite the contradiction! Try and see for yourself and comment below!
In mouth one is met with a rich array of indescribable flavor that is intense and yet with almost no bitterness. Its balance between sweetness and bitterness makes it an excellent choice for either Usucha (fine tea) or Koicha "thick tea" matcha preparation. 
Koicha preparation: two teaspoons Matcha tea powder for about 1 dl water at 80 °C.
Usucha preparation: 1 tablespoon Matcha for about 2dl water at 80º C. Let chasen (bamboo whisk) stand in chawan (tea bowl) for 10 minutes to make it more flexible and warm the bowl. Use chashaku (bamboo spoon) to take one heaping spoon of matcha and sieve through furui to eliminate small lumps. If you do not have a furui, then you can use cold water to make a paste. Add 2 dl. water at 80 °C. Hold whisk with dominant hand, using other hand to hold the bowl steady. Begin by stirring slowly to mix powder and water, then whisk swiftly while writing the shape of the letter M until you develop a creamy froth. Finish by making circular movements to eliminate large bubbles, then lift whisk from the center of the bowl so the froth looks smooth and even.
This tea comes in vacuum-sealed 50 gram bags. 
Origin: Ogura, Uji, Kyoto, Japan
Harvest: Ichibancha (Spring) 2023
Color of liquor: phosphorescent green
Aroma: spinach, seaweed, oven-baked sea-bass
Flavor:  green vegetables, sweet, dense, iron
Temperature: 80º c