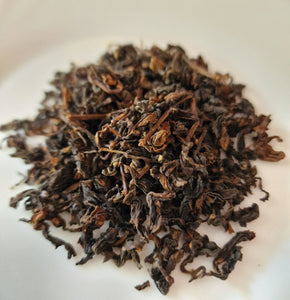 The Shimen area, near Taipei, is one of the oldest growing areas in Taiwan. While the area is famous for its traditionally processed and roasted Tie Guan Ying, they also grow other cultivars such as this one, Ying Xiang "Inviting Aroma" (TTES 20). This organic tea was harvested in November 2022 and made by Mr. Li who won Silver Medal at the GABA Tea Competition organized by the Taiwan Tea Association. You'll find the typical creamy and fruity notes but its appearance is different as it was very loosely rolled and submitted to higher oxidation to make what is nowadays called a "hong oolong" as it is closer to Hong Cha. You'll find this tea to be sweet, nicely roasted, pronounced fruitiness and strong on GABA as it has 196mg/100gr.tea.
Origin: Shimen, Taipei, Taiwan
Harvest: November 2022
Color of liquor: orange
Aroma: fruity, baked apples, lightly roasted, freshly baked cookies
Flavor: sweet, fruity, honey, light citrus
Temperature: 100º c
Steeping Time: 1.5min; 2min; 3min...