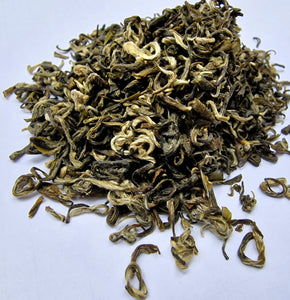 This lovely Mao Jian (Furry Tips) comes from Duyun in the province of Guizhou. It's the highest grade of tea they make in Duyun, harvested in the first days of March, meaning it's from the earliest days of spring harvest referred to as Ming Qian or Pre-Xing Ming which is the tomb sweeping festival. During this time families visit the tombs of their ancestors to clean the gravesite and make ritual offerings. It also an extremely important day in the calendar for green tea harvesting.
Teas harvested prior to Qingming are prized for their tender buds and delicate aromas. You might see them marketed as Mingqiang or pre-Qingming. The first harvest after a long winter rest will have a higher concentration of amino acids and lower levels of catechins, making the taste sweeter and more complex. The quantity of leaves harvested from each tea bush or tree is very small, and the leaves themselves are much smaller and lighter. For that reason, these teas will fetch a high price in comparison to later harvests.
Locals refer to it as Yugou tea, or "fish hook" tea, because of its appearance. Actually it is often confused with Bi Luo Chun, or Green Snail Spring From Jiangsu province, as it is also hand-fired and processed similarly.
Origin: Duyun, Guizhou, China
Harvest: April, 2022
Color of liquor: light pastel yellow-green
Aroma: nutty, wild grass, artichoke, edamame, almond cookies, chocolate milk
Flavor: soft and silky, vegetal and nutty
Temperature: 65-70º c
Steeping time: 1min, 1min, 1,5min; 2min...