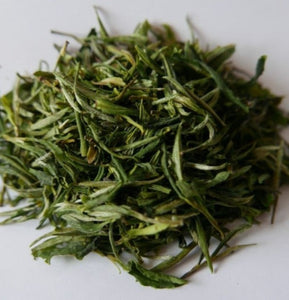 Huang Shan Mao Feng is one of China's most famous green teas. This tea was plucked in the early spring. They picked one tender bud and two leaves to make this delicate, sweet floral green tea that hails from the area around the massive Yellow Mountain Range. Mao Feng (Hairy Peak) is a tea classification term that refers to a 1 bud, 1 leaf fine plucking with fine silvery hairs, although sometimes you can also find one bud, two leaves labelled as Mao Feng. The term Mao Feng may be a symbolic reference to the Huang Shan Mountain peaks which are crowned with Pine Needle trees. We recommend you prepare this tea in a porcelain teapot or more simply by scatterring some leaves in a bowl and adding hot water. This tea won't overbrew, remaining sweet and refreshing. It's especially enjoyable to sip and eat the tender leaves floating in the bowl.
Origin: Shexiang, Qimen, Anhui, China
Harvest: Spring, 2022
Color of liquor: pale green
Aroma: fresh pèas, bamboo shoots and artichoke heart
Flavor: gentle, refreshing, sweet, floral notes of magnolia
Temperature: 80-85º c
Steeping Time: 1min; 1min; 1,5min; 2min; 3min...