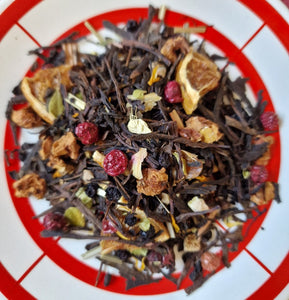 We are thrilled to introduce this very special organic Christmas blend we've made for you. This Christmas Tea will warm everybody up and make them feel very cozy! We feel that with this "Blackbelt" Limited Edition we've really achieved a very complex, yet well-balanced, Christmas tea that has a bit of everything including lots of Christmas spirit! You'll find the fresh notes of orange, lemon, bergamot and lemongrass; the deeper fruitiness of freeze-dried cherries and red currants, elderberry, apple and buchu leaves; the floral fragrance of pink rosebuds and marigold flowers; the sweetness of liquorice and the spiciness of ginger, vanilla and almond! And if you want to add a little more spiciness just add a bit of our Classic Chai Mix!
Japanese koucha black tea 57%*, elderberries*, apple*, ginger*, orange*, lemongrass*, buchu*, liquorice*, pink rosebuds*, marigold flowers*, freeze-dried red currants*, freeze-dried sour cherry*, natural bourbon vanilla extract*, natural almond flavoring, orange oil*, bergamot oil*, lemon oil*, ginger oil*.
*organic.
Temperature: 100º c
Steeping Time: 3-4minutes
Use 6 grams for 300ml.