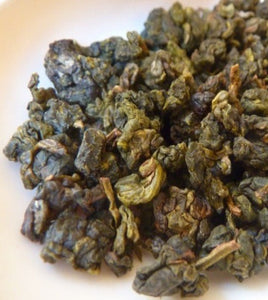 This Organic medium oxidation oolong was made by blending leaves of Jin Xuan (Golden Lily Milk Oolong) cultivar imported from Ali Shan, Taiwan in the 90´s and planted in Doi Mae Dalong in north Thailand, 6 km from the Burmese border, and heated them together with leaves of the "Sticky Rice herb" (Nuo Mi Xiang Ye, which literally translates as "Sweet Fragrance Rice Tender Leaves"). The leaves were then rolled together and make a very fine and harmonious cup that fuses the creamy Jin Xuan Milk Oolong notes with the sticky rice notes of the "No Mi Xiang" herb. This is another example of a delicious, natural and traditional aromatized tea!
Origin: Doi Mae Salong, Chiang Rai, Thailand
Harvest: April, 2022
Color of liquor: golden yellow
Aroma: jasmine rice, sweet cream, cinnamon
Flavor: rice pudding, oily, rich, creamy, rice krispies
Temperature: 90º c
Steeping Time: 1min; 1min; 1,5min, 2min, 3min...