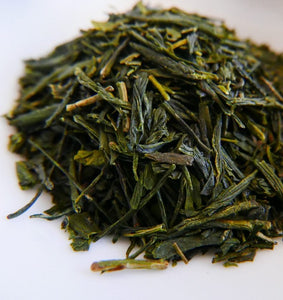 This Asanagi "Calm Morning" Sencha green tea is a blend of Kanaya Midori, Asanoka and Yabukita organic-certified cultivars cultivated by Shutaro Hayashi, 5th generation tea farmer on Kirishima Mountain (Misty Mountain). This organic sencha is a fantastic introductory sencha with a great price. You'll find this tea is easy to infuse and its taste to be round and soft.
Origin: Kirishima, Kagoshima, Kyushu Island, Japan
Harvest: Nibancha, 2022
Color of infusion: greenish yellow
Aroma: marine, baked sea bass, clams, seaweed, creamy
Flavor: soft, yet full-bodied, marine, mineral, spinach
Temperature: 75º c
Steeping Time: 45sec; 30sec; 1min...