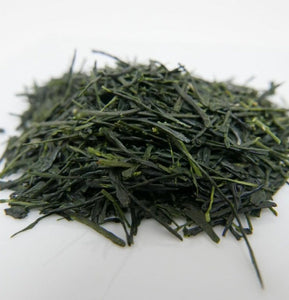 Celebrate the spring with fresh Organic Shincha Asanoka Kirishima. This delicious and refreshing sencha can be enjoyed as an amazing cold brew ice tea or as a fabulous traditionally steeped Japanese green tea. This exuberant green tea was plucked as one bud, two small leaves. It was made with Asanoka cultivar  tea leaves, lightly steamed "asamushi" for just under a minute, giving its leaves a very intense, shiny dark green color and lots of depth. You will find that it is elegant and noble with a very sweet and lively aroma. We recommend you brew this tea without a lid.
This amazing organic shincha green tea was cultivated and produced by Shutaro Hayashi, 5th generation tea farmer on Kirishima Mountain, using the lovely Asanoka varietal and is packaged in 80gr. bags so you get more for your money!
Origin: Kirishima, Kagoshima, Kyushu Island, Japan
Harvest: April, 21, 2023
Color of liquor: yellowish-green
Aroma: fruity, creamy, marine, freshly cut grass,
Flavor: sweet, lively, bright, vegetal, uplifting, refreshing
Temperature: 67º c
Steeping Time: 1min; 30sec; 45 sec, 1 min...